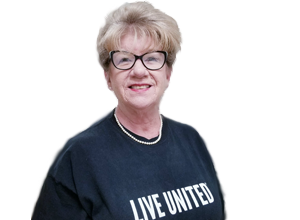 Manager of Resource Development
ksovia@unitedwayncfl.org
Kim Sovia was transferred to Gainesville, post Hurricane Irma, as Director of Development and Volunteer Services for Haven Hospice in March of 2018. She became part of the United Way team in August of 2019 and has over 35 years dedicated to the nonprofit sector in South Miami and the Florida Keys. Kim worked for the Department of Defense at Homestead Air Force Base and has held numerous top executive positions throughout her professional career as Executive Director and was the first and only female President/CEO of the Homestead/Florida City Chamber of Commerce post Hurricane Andrew. For over 6 years she served as Monroe County's Congressional Aide for Congresswoman Ileana Ros-Lehtinen and has an extensive background in the film and radio industry. She has served on numerous boards such as the American Red Cross, USO, Greater Miami Convention and Visitors Bureau and was elected to both the Miami and the Florida Keys Tourist Development Councils.
Hometown: As an Army brat, we were uprooted every two to three years, so I have lived all over the country to include 5 years in Germany. Home to me is where the heart is.
Why I do this work: I am a firm believer of paying it forward. Having lived through 2 disastrous hurricanes, and the devastation they caused, I experienced first-hand the generosity of giving and the impact it has for people in need. United Way organizations have always been in the leadership forefront when it comes to helping the communities they serve, so I am very honored to be a part of your United Way team.