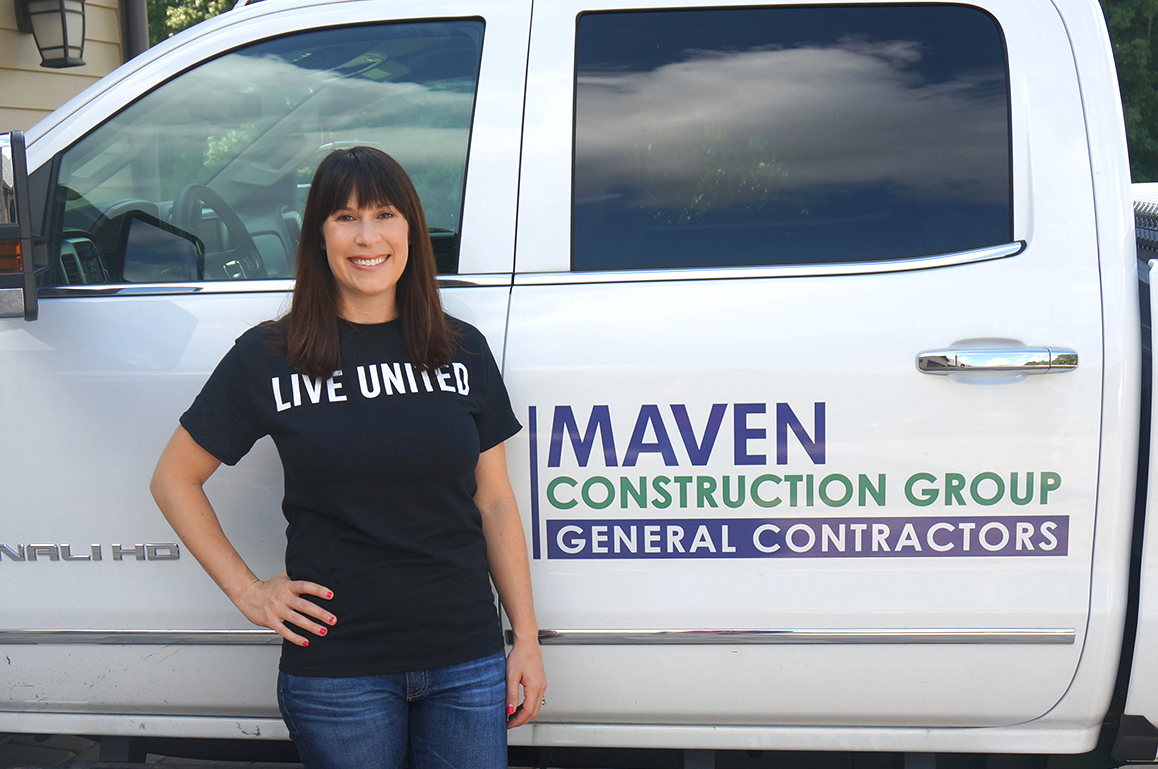 Ashley Finnegan, Maven Construction Group
1.Tell us about your business and your business philosophy.
When Gainesville homes are damaged by water, mold, fire, or storms Maven Construction Group is there to restore your property and your peace of mind. We are a licensed general contractor specializing in restoration of commercial and residential properties, but the heart of our business is our ability to manage every aspect of the job from start to finish, including dealing with insurance. We are also available 24/7 and we self-fund our projects, meaning we can start work immediately during emergency situations. Ultimately, we understand the strain that property damage puts on peoples' lives, so we've built our business to be quick, high-quality, and as hassle-free for the client as possible.
2.Why are you passionate about your commitment to United Way's Community Investment Fund?
For locally owned and operated businesses like ours, it's important that our surrounding community grows and thrives. That's why we're so grateful for the opportunity to help support the health and well being of the North Central Florida region through United Way. Because United Way's funding stays local, we can give back in a way that directly impacts our own neighbors and future generations.
3.What is something interesting or surprising that most people don't know about you?
I was a level 10 competitive gymnast when I was younger and trained under Olympian Ron Galimore. As a kid, I was working out before elementary school and putting 20-plus hours a week into my passion. All these years later, I still attribute some of my work ethic and motivation to what I learned during this time in competitive sports. I appreciate all the time, dedication, and resources my parents and coaches invested in me, and I hope to do the same for my own children.
4. What would your older self tell your younger self?
Your work should not consume your life. I'll never forget the feedback I got from a prior company that my work/life balance was way off – I didn't even know it was something other people noticed about me. Since then, I've become a much more balanced person. It's helped me improve my relationship with my family and friends, and ultimately, made me a healthier person so that I can do better when I am at work.
5.Favorite Quote?
"If you are bored with life, if you don't get up every morning with a burning desire to do things – you don't have enough goals." – Lou Holtz
---
Small businesses play a critical role in maintaining a thriving local economy. They are no less important to the success of United Way, as we endeavor to improve lives through our work in education, income, and health. Our Small Business Partners are an important, growing family of donors, who are vital to helping us meet the needs of our community.
To learn more about how you and your business can support United Way, contact Dana Clayton at DClayton@unitedwayncfl.org or (352) 316-0666.