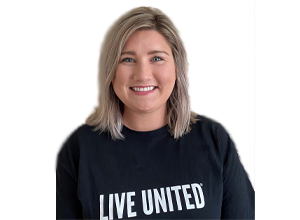 HMIS Administrator Assistant
(352) 682-4344
mfleming@unitedwayncfl.org
Maddye moved to Gainesville, FL in August of 2019 after living in Georgia, Michigan, and Texas. She received a BBA from Sam Houston State University, and a Master of Education from Oakland University. Maddye started her career at Shell Global Solutions as the On-Boarding Coordinator, and later transitioned to project development, budget oversight, and overseas projects. Maddye is most thankful for her husband, Fleetwood, and flat-coated retriever, Ziggy, who bring so much joy.
Hometown: Houston, TX
Why I do this work: I grew up with a servant heart, volunteering on weekends with Habitat for Humanity, visiting nursing homes, and going to the Ronald McDonald House. I love being a part of United Way because it makes a difference in the lives of people we serve.