United Way of North Central Florida (UWNCFL) is a nonprofit organization focused on the building blocks that lead to a good quality of life – Education, Health, Financial Stability and Immediate Needs– because we all gain when children are successful in school, when families are financially stable and safe, and when people are healthy.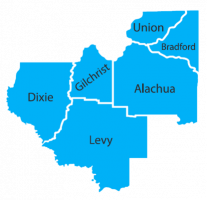 UWNCFL serves the six county area (Alachua, Bradford, Dixie, Gilchrist, Levy and Union) in four ways:
By funding results-driven programs, offered by Community Impact Partner Agencies and other organizations through the Community Investment Fund;
By providing broad-reaching services (211: the 24-hour, free and confidential helpline);
By developing grant-funded initiatives; and
By serving as a lead agency for state and federal grants to bring more dollars into our community.
In addition, United Way is a natural leader and convener of broad community building, as with the Community Visioning and Strategic Planning process, where we bring hundreds of organizations and experts together to envision, plan and engage in the work of building a stronger community together. UWNCFL engages within our community to find long-term solutions for issues impacting all residents in the areas of Education, Financial Stability and Health. UWNCFL is committed to collaborating with all segments of the community to build partnerships and help fill the needs in our community. It takes all of us working together to create a seamless tapestry of support to build a better and more resilient community.
United Way of North Central Florida (UWNCFL) was formed in 1957. It is one of 1,800 similar organizations in the United States, Canada and other countries. Each organization is completely autonomous in its principles, policies, activities and methods of operation.
UWNCFL is a local charity, governed by local community leaders, with a laser focus on improving health, education and financial stability for people living in our service area. The most important part of what we do as a community fundraiser is that money raised here, STAYS HERE. We are committed to investing dollars raised via the Community Investment Fund to support local needs. All of the money in the fund is applied in the counties of Alachua, Bradford, Dixie, Gilchrist, Levy and Union to agencies that best meet our criteria and make significant improvements within our focus areas.
United Way Worldwide provides the use of the brand name and logo, along with research that helps us be the best local United Way we can be. Ultimately, it's our volunteers who determine the best way to build our community. In 2014, UWNCFL received the highest rating among nonprofits with four stars awarded by Charity Navigator.
In our 60+ year history, UWNCFL has continued to experience steady growth in community influence and ability to effectively serve our community. In six decades, we have raised more than $100 million dollars for North Central Florida.
Our Mission
United Way of North Central Florida positively impacts the education, health and financial stability of people living in our region.
Our Vision
To be the number one trusted choice in charitable giving that unites people to transform lives in north central Florida.
We are "ALIVE"
ACCOUNTABILITY: We act with integrity and maintain the highest standards of ethics and accountability.
LEADERSHIP: We provide leadership for community building.
INCLUSIVENESS: We respect the dignity, uniqueness and worth of all individuals and value the diversity of the community we serve.
VOLUNTEERISM: We promote a 'spirit of volunteerism' and volunteer leadership.
EXCELLENCE: We provide the highest quality in all we do.
At United Way, we know success is measured by how our mission is achieved — to make measurable improvements in communities. Setting high standards for ourselves and for our local partners is critical for that success.
Annually, all United Ways must certify their adherence to United Way Worldwide standards that include comprehensive requirements for financial reporting, governance, ethics, diversity and operations. Specifically, local United Ways must meet the following:
Tax-Exempt Status
United Ways must be tax-exempt under Section 501(c)(3) of the Internal Revenue Code as well as corresponding provisions of other applicable state, local or foreign laws or regulations.
Governance
United Ways are governed by active, responsible, and voluntary governing boards to ensure effective governance over the policies and financial resources of the organization. These boards are responsible for United Ways delivering on their mission to advance the common good.
Ethics
All United Ways follow locally adopted codes of ethics for volunteers and staff that include provisions for ethical management, publicity, fundraising practices and full and fair disclosure.
Diversity
United Ways have adopted policies/statements to ensure volunteers and staff broadly reflect the diversity of the community served.
Financial Accountability
United Ways undergo annual financial audits conducted by independent certified public accountants whose examination complies with generally accepted auditing standards. In addition, United Ways have developed comprehensive requirements for completion of audited financial statements to ensure consistency and transparency system-wide. These requirements are based on industry best practices and comport with generally accepted accounting principles. Smaller United Ways (with less than $100,000 in annual revenue) may undergo an independent financial review.
Performance Excellence
Every three years, United Ways conduct self-assessments of their governance, financial management and impact in the community.
Public Reporting and Disclosure
United Ways must file the IRS Form 990 in a timely manner and will provide the IRS Form 990 on their website, at their offices, or upon request.
Legal
United Ways comply with all applicable local, state and federal operating and reporting requirements.
Support the United Way Network
United Ways provide financial support to United Way Worldwide through annual membership dues and follow standards to use United Way's trademarks. United Ways charge fees based on actual expenses for donor-designated gifts and other processing services.
Equity is the intentional inclusion of everyone in society. Equity is achieved when systemic, institutional and historical barriers based on race, gender, sexual orientation, and other identities are dismantled and no longer predict socioeconomic, education and health outcomes.
UWNCFL recognizes structural racism and other forms of oppression have contributed to persistent disparities which United Way seeks to dismantle. Our United Way network strives to engage community members, especially those whose voices have traditionally been marginalized. We work with residents and public and private partners to co-create solutions that ensure everyone has the resources, supports, opportunities and networks they need to thrive. We commit to leveraging all of our assets (convening, strategic investments, awareness building, advocacy) to create more equitable communities.